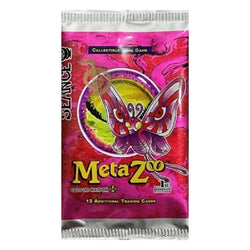 NalterDeeds
2022 MetaZoo 1st Edition Seance Booster Pack (1X STREAM PACK)
1x booster pack of MetaZoo 1st Edition Seance.
Buying 36 packs gets you all 36 packs from one booster box.
Packs purchased will be opened by Nalter on the following live stream on YouTube, typically at 7PM CST.  They will be shipped directly to you once they have been opened. Cards will be opened and shipped regardless of if you are watching the live stream.
All notable holos/full-arts and reverse-holos will be put in penny sleeves. All notable holos/full-arts will be put in top loaders. All cards will be shipped via USPS in protected mailing to ensure product is shipped safely. The empty packs will not be included. Shipping will take place approximately 3-4 days after packs have been opened.

Pack artwork may vary.